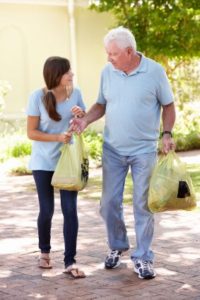 Sometimes we need a little extra help for a short time. Here are some ways your Harbour Towne Condo Neighborly Help Group might assist you:
make check-in calls to see if you're okay
pick up a few basic items or medication from the store
pick up your mail and bring it in
take out/return your garbage can from the end of the driveway
replace a burned out light bulb
provide or arrange meals to be brought in for a short time
minor one time fix it repairs around the house
try to answer questions about electronics, cable, TV, electric or computer issues
We're a collection of interested condo residents who are willing and able to help our condo neighbors in a pinch. We can help with things as simple as temporarily bringing in your mail when you're away or can't get to your mailbox to helping you replace a lightbulb that you can't reach. We also have a number of neighbors who are ready and willing to provide a meal to you for a short time if you become injured, ill, are recuperating from surgery or experience the death of a partner. Please don't hesitate to call us if you have a need and we'll see if we can help. We want to keep our community safe and healthy and pay it forward…..
Please consider joining us. Many hands make light work! Plus you get to meet more neighbors! Call either of the coordinators.
Neighborly Help Coordinator
Additional Resources
In some cases, there may already be services available in our community. Check back often as we publish more resources from time to time.
Call 211 is a Community Access Line of the Lakeshore coordinated by United Way. Call 211 or visit the website to volunteer or ask for assistance in any of the following resource areas:
Mobile Food Pantries
Housing Options
Senior Programs
Utility Bills
Youth Programs
Volunteer Opportunities in Muskegon